Featured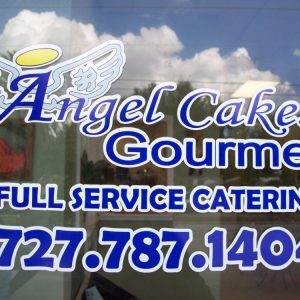 1484 Alternate 19 North
Palm Harbor, FL 34683
Due to the current situation which we all find ourselves in, Angel Cakes Gourmet is committed to providing you with fresh quality food. We are offering homemade food packaged for ready to eat or for freezing.
We would like to minimize the traffic and person-to-person contact in the store. Therefore, we are offering other options:
#1: You may call ahead with your order, inform us of a pick-up time, and pick your food up outside the store on the table.
#2: We are offering delivery within a 5-mile radius. Delivery times will be from 9am-11am and 1pm-3pm. Delivery will be an additional $3.00. Delivery will be to your doorstep.
We are able to take your credit card information securely over the phone and provide a receipt with your purchase.
Below are a selection of the fresh prepared foods that we are offering:
2 1/2 lb. Lasagna with Meat- $13.50
2 lb. Eggplant Parmesan- $11.50
1 lb. Italian Sausage with Peppers and Onions- $13.50
1 lb. Chicken Cacciatore- $13.50
6 oz. Breast Grilled Chicken- $6.00
Meatballs Marinara (12 count)- $13.50
1 lb. Meatloaf- $7.50
6 oz. Chicken Parmesan Cutlet- $7.50
6 oz. Chicken Cordon Bleu- $8.00
8 oz. Chicken Piccatta- $8.00
8 oz. Parmesan Encrusted Chicken- $8.00
Chopped Sirloin Steak with Mashed Potatoes and Gravy (in a microwaveable container)- $8.00
Spaghetti and Meatballs (3) with marinara (in a microwaveable container)- $8.00
Cheese Tortellini with basil in a creamy parmesan sauce (in a microwaveable container)- $8.00
Baked Ziti with meat- $11.50
Quarts of Assorted Soups- $8.00
1 lb. Chicken Salad- $7.75
1 Quart of Orecchiette Pasta Salad- $9.50
Pint of Pickled Beets- $6.50
Small Loaf of Blueberry Bread- $4.50
Apple Cinnamon Bread- $4.50
1/2 dozen assorted cookies (Your choice: Almond chocolate chip, snickerdoodle, chocolate crackle)- $6.00
Small 4″ Carrot Cake with Cream Cheese icing- $7.50
Small 4″ Chocolate Sundae Cake with Chocolate Buttercream, Oreo Pieces and chocolate ganache- $7.50
****Call on Wednesday's for Chicken Pot Pies****
9″ Chicken Pot Pies- $14.00
We are praying everybody stays safe and healthy. Please feel free to call us at (727)-787-1404 with any questions or concerns. If we are not available please leave a message and we will return your call. Thank you!